If you already have a card or voucher from one of our partners but don't yet have an account you can create one now. You may also create an account if you plan on picking up a card or voucher from any of our partners in the future.




myrewardcard.ie allows you to track the usage and manage the balance on Reward Cards, Gift Cards, Savings Clubs and Virtual Wallets you hold from different businesses. We also work with community groups to help them use Reward and Loyalty programs in fundraising and creating vibrant communities. These are typically accomplished through voucher programs which you can also manage here.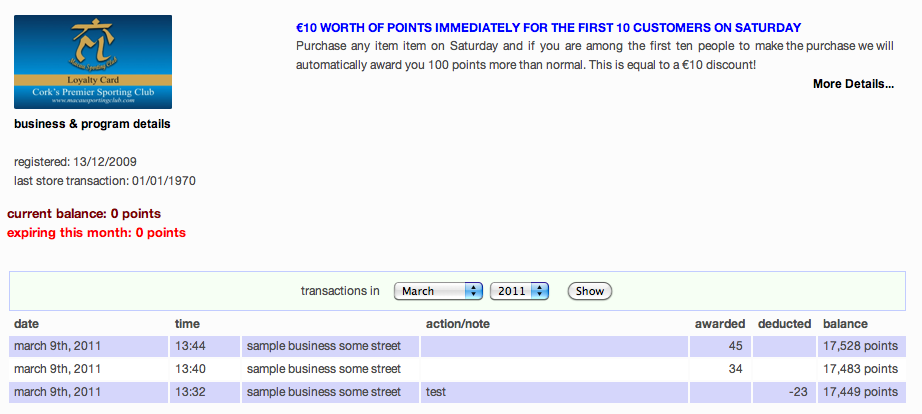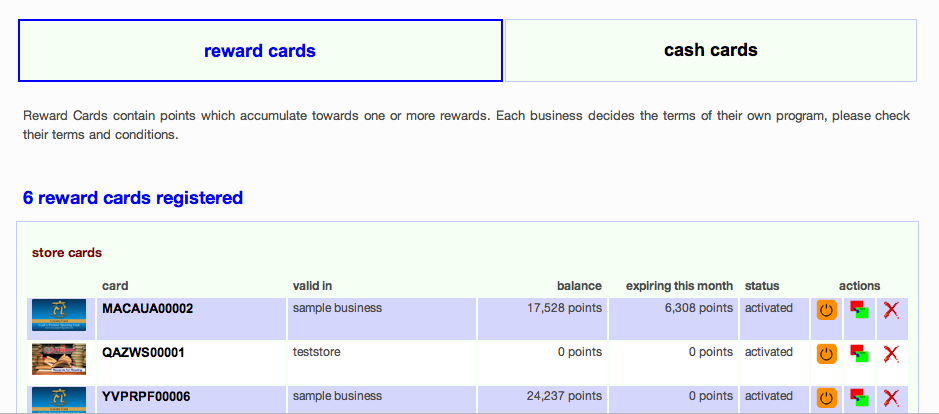 With a card from a myrewardcard.ie partner you have a range of benefits that go beyond what paper can bring;


All your Gift, Loyalty and Savings cards can be seen in one place and managed directly - no more wondering how many points you have or remembering passwords from multiple businesses. Instead you have one account and simply register all your cards to it.


Once registered you can see your whole transaction history with each business.


Most importantly registered cards are safe. If you lose your card you can immediately suspend it making sure that the points on your Reward Card or the money on your Gift Card cannot be spent. Then when you have time you can pick up a replacement card and transfer the value to the new card.

Businesses use myrewardcard.ie to manage the technology behind their Reward and Gift Cards because it allows them to focus on their customers. Not only do they provide you with the benefits listed above but they also give themselves more time to focus on your needs. If your favourite business doesn't use our platform perhaps it's time to ask them why.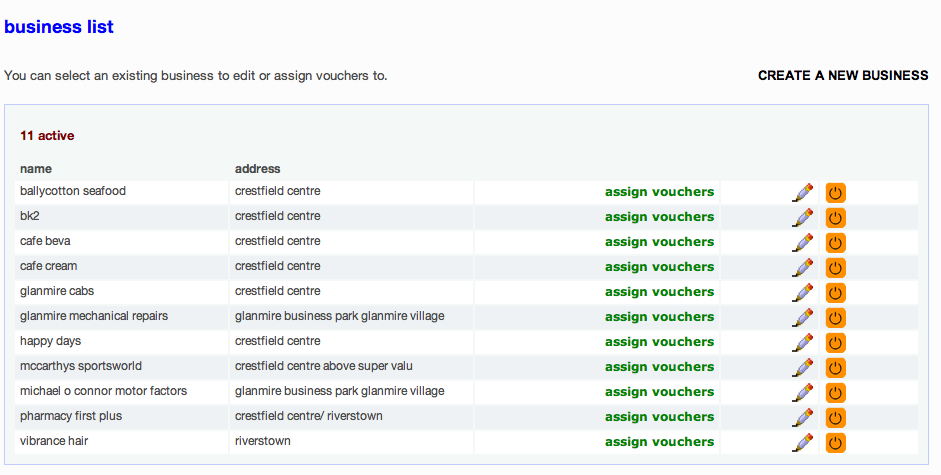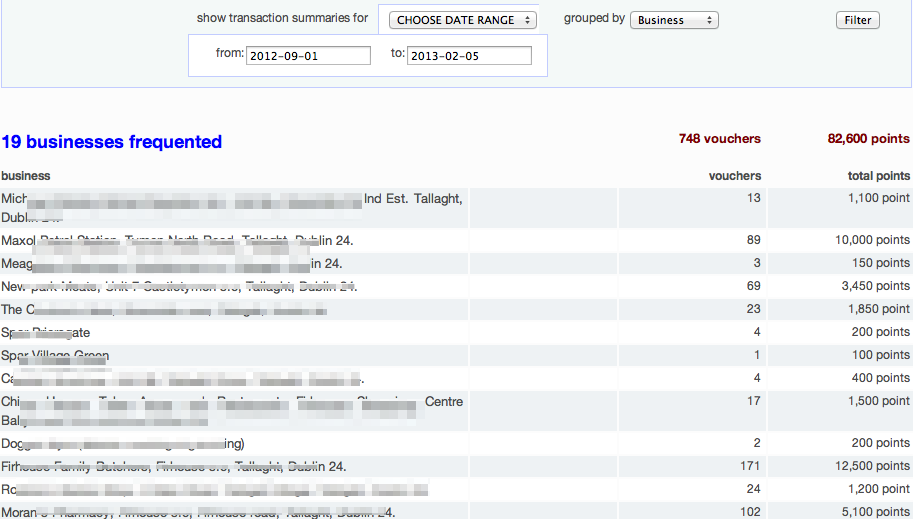 Helping Communities to Thrive in Tough Times
Voluntary organisations throughout the country are finding it difficult to raise funding to help their communities. At the same time businesses are searching for ways to reward residents for shopping locally. myrewardcard.ie has a new platform that solves both problems.

Our platform allows businesses to offer incentives to customers while also directly helping voluntary organisations.It does this in a simple way that requires no commitment from the business and with costs that are in direct relation to the revenue it generates for the business.


Quick and Easy to Use


No IT required in the business.


No changes to the businesses workflow.


Customisable operation for each communities needs.


Define the benefiting organisation or let the customer decide.


See instantly how this months performance compared to last months - and lots of other important information.


The local community remains in control


No ongoing commitment from business or community




Learn more about how we an help your community or organisation by Clicking Here.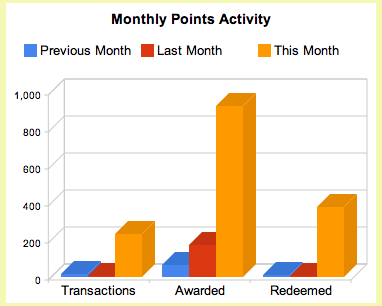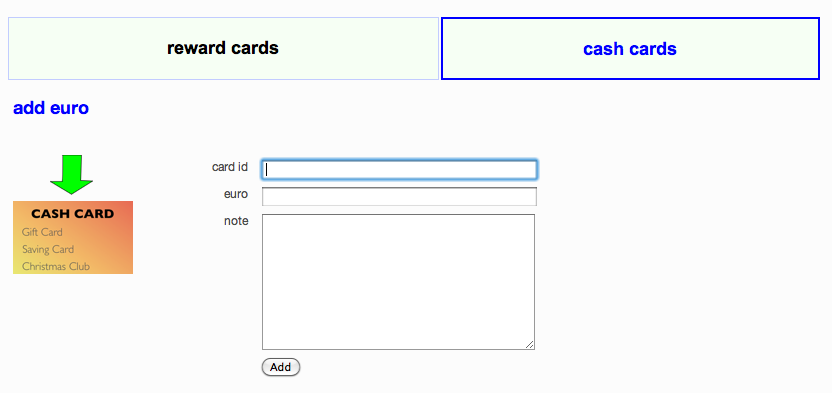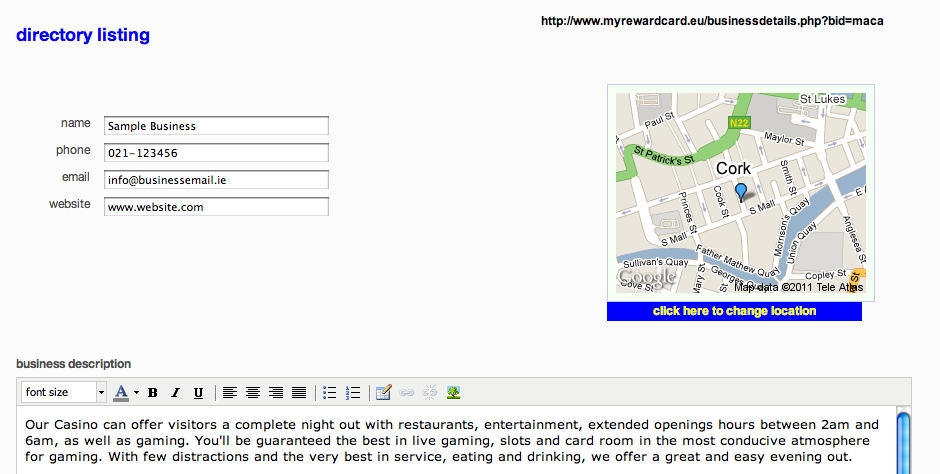 Gaining New Customers Costs 8 Times More Than Selling to Existing Ones
There is a reason Tesco doesn't use paper for their Loyalty Card. It's the same reason Marks & Spencers don't use paper for their Gift Cards - they don't work.

Paper based systems are time consuming to operate, are seen as having no real value by customers, and don't provide you with any information on their use. Unfortunately they have been the only option for smaller businesses. Until Now.

Gaining new customers is difficult and costly. In todays climate you need to keep in touch with existing and past customers if you want to succeed. myrewardcard.ie provides the tools you need to do just that. And we do it by removing the need to worry about and implement technical aspects from you. You can quickly have the benefits of a professional Reward Program with the ease of a stamped card system.


Quick and Easy to Use


We do all the IT work so you don't have to upgrade software or backup databases


Your customers see a professional image.


You have more time to focus on your customers needs


You know at any instant how many points or cash is outstanding, allowing you to plan ahead.


See instantly how this months performance compared to last months - and lots of other important information.


myrewardcard.ie is flexible enough to adapt to your business needs but powerful enough to help you grow your business. And from only €45/month any business can afford it.

See why myrewardcard.ie is the right choice for you, learn more about how we can help you here and then ring Brian on 021-2349920 or send an email to [email protected]